| | |
| --- | --- |
| | |
Daniel began his music career at the age of 4 playing violin, piano and singing at Christ Church Stantonbury Campus. Milton Keynes.
At the age of 7 Daniel became a chorister at Christ Church Cathedral, Oxford. Singing many solo pieces during his time there. With Christ Church Cathedral Choir Daniel toured USA, Australia, Brazil and sang on many recording sessions.
From Oxford Cathedral Daniel was awarded a music scholarship to Charterhouse School, Surrey, where under the tutelage of Mark Blatchly and Glyn Davenport he began to sing countertenor.
During his stay at Charterhouse Daniel attained Grade 8 violin, organ and piano.
Daniel went on to read Music at Magdalen College, Oxford, as a Choral and Academic Scholar. While at Oxford, Daniel began to embark on a solo career as a countertenor, studying with Ashley Stafford. He performed at various concerts there, including at the University Church with Schola Cantorum and Emma Kirkby (Handel – Dixit Dominus) and at the reopening of the Sheldonian Theatre (Handel – The Messiah).

Daniel receiving a first class degree in music at Oxford in 2005.
In 2005 Daniel went on to further his vocal studies at the Royal College of Music, continuing to study under Ashley Stafford.
Whilst there he participated in masterclasses with Michael Chance, Peter Harvey and James Bowman, as well as private tuition with people such as Robin Blaze, Margaret Cable and Stephen Roberts.
Daniel gained a post graduate diploma in singing at the RCM.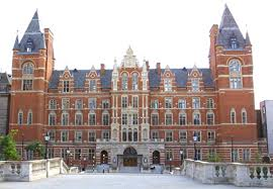 Some of Daniel's solo performances include Bach's St. John Passion at Chichester Cathedral with the Hanover Band, and at St. Paul's Church, Knightsbridge with Orpheus Britannicus, Handel's Messiah at St. Alkmund's Church, Shrewsbury, a concert of Purcell odes including Welcome to All the Pleasures with Orpheus Britannicus, at All Saints, Margaret Street, and a live broadcast of Biber's Missa Bruxellensis from Izegem, Belgium. Daniel has performed with several choral societies, including Bracknell Choral Society, with whom he sang the tenor aria in Carl Orff's Carmina Burana.
Currently, Daniel sings every Sunday at the Church of All Saints, Margaret Street

See ensembles page for the professional music ensembles and choirs Daniel sings with.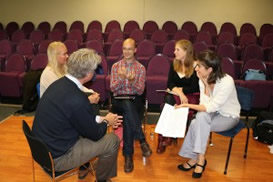 International introduction to the Voces Caravan
Between 9 and 13 September 2013, 4 young European conductors travelled across three countries with Peter Hanke, taking part in workshops and masterclasses. The caravan travelled between Oxford, Copenhagen, Amsterdam and Hague.
The object of the caravan was to expose the conductors to a large number of different experiences, ensembles, and situations in order to develop their musical leadership and their authority in front of an ensemble, using the principles developed over recent years by the Voces Academy in Denmark.
Participants took part in a business workshop and conducting masterclass in all four cities: 9 September in Oxford, 10-11 September in Copenhagen, 12-13 September in Amsterdam. Culminating in a masterclass at the Conservatory in Hague on September 13.
Participant biography
Daniel Collins is a successful professional counter tenor with a longheld ambition to move into conducting. He was a chorister at Christ Church Cathedral, Oxford, music scholar at Charterhouse, a Choral Scholar at Magdalen College Oxford before going freelance to pursue his singing career with multiple professional ensembles including The Sixteen.